Heated Driveways - Options and Information
Heated driveway systems utilize radiant heat to warm driveways and other outdoor areas to keep them free of snow and ice. Radiant heat is the most efficient technology available because there is virtually no heat loss, making driveway heating systems the most effective way to melt snow from driveways, sidewalks, steps and other areas.
Two technologies are available for heating driveways: electric and hydronic. Electric driveway heating systems utilize heat resistance cables that are laid out under the driveway's surface. Hydronic systems feature a network of PEX tubing that is also laid out under the surface of the driveway. Both technologies can be installed in concrete, asphalt or under pavers to efficiently heat the surface. Both systems are fully automated, activating when conditions warrant to keep the driveway free from snow whenever a storm hits. Warmth radiates from the source and quickly heats the driveway to prevent snow buildup. Electric driveway heating systems are especially easy to customize to meet the specific demands of the user. Each Warmzone snowmelt system is custom designed to best meet the unique needs of the project in the most efficient and cost effective way possible.
Heated driveways are easy to customize in order to meet the specific needs of each user. Systems can be tailored to accommodate various budgets and available power, as well as unusual driveway layouts and regional weather conditions.
Heated Driveway Layout Options Include:
● Heat the entire driveway: Homeowners with the available power and budget typically opt to heat the entire driveway surface and/or parking area.
● Only heat the most trafficked area: Instead of heating the whole driveway, some homeowners opt to heat an 8-foot wide strip in the middle of the driveway, facilitating access in and out of the garage during winter storms.
● Heat two 24-inch wide tire tracks the length of the driveway: Installing heated tire tracks offers considerable savings when compared to heating an entire driveway. This is a practical solution for long or dual driveways. This solution is also popular for homeowners who may not have the power necessary to heat the entire surface. Since this option utilizes less power, the operating costs are lower as well.
● Heat the trouble spots: Some driveways are built on an incline, making them treacherous after a snowstorm. This can create an especially dangerous situation for driveways that open up into a busy public road. Installing radiant heat to keep the inclined area of the driveway – or any other problem area – clear is a common, affordable way to keep shaded driveways, or driveways that run downhill safe during the winter months. Driveway heating systems can be easily designed and customized to heat specific problem areas.
● Heat walkways and areas that receive foot traffic: Enhance safety by installing a heated driveway or sidewalk to prevent snow and ice buildup that presents hazardous situations for pedestrian traffic. These systems can greatly reduce slip and fall accidents, making them ideal not only for homeowners, but for businesses looking to increase safety for their customers. Heating sidewalks and ramps can greatly minimize the chances of slip-and-fall injuries – and subsequent litigation.
How do Automated Heated Driveway Systems Work?
Both electric and hydronic heated driveways utilize three basic components: a heating element, a snow sensor / controller (also known as the activation device), and a UL listed contactor panel. Warmzone offers panels with or without GFEP included. (This is an excellent time and cost savings option for electricians.) The snow sensor / activation device is the unit that triggers these systems – operating only when needed – resulting in fully automated, worry free performance.

Both 'in-ground' sensors (mounted in the pavement) and 'aerial-mount' sensors are available. Aerial sensors are most commonly used for residential heated driveway systems, and are typically mounted at the roofline of a home. It is placed in the open, away from trees, dormers or the roofline to allow falling snow unobstructed access to the sensor. When this device detects precipitation and a temperature below the designated (set) point, it signals the contactor panel, which is usually mounted in the garage. The contactor panel then sends power to the resistance heating cable and warmth immediately begins to spread across the driveway or sidewalk, preventing any snow buildup. As the storm ends and snow is no longer detected, the sensor enters its "afterrun" function. This allows the system to continue to run for a few more minutes in order to dry the driveway to prevent ice from forming. (For additional information about how heated driveway components work, visit our How Heated Driveways Work webpage.)

This same automation technology activates hydronic radiant heat systems as well, only the method for heating the driveway is different. Hydronic radiant heat systems utilize specially treated liquid (a mix of water and propylene glycol) that is heated by a boiler. A series of pumps then circulates the warm liquid through a closed loop of PEX tubing embedded in the driveway. Hydronic systems are much more complex and require a mechanical room for the pumps, boilers and manifolds; however, hydronic systems are also effective for keeping driveways clear of snow and ice – as well as heating floors. Hydronic systems can use whatever fuel source is available in the area, including: propane, natural gas, fuel oil, or wood, so homeowners can choose the least expensive option. This can result in a hydronic heating system having a slightly lower operating cost than an equally sized electric snow melting system. This can be especially advantageous if you are heating a large driveway or parking area.

Both electric and hydronic heated driveways boast a variety of benefits and advantages, so make sure you contact a trusted radiant heat expert to discuss your project and learn more about the various options available. Some smaller companies are biased because of their limited inventory and may try to convince you that the products from their restricted offering are ideal for you, so be sure to shop around. Deal with a provider that not only offers a selection of proven products, but offers both electric and hydronic solutions so you are not boondoggled into purchasing the only system that a salesperson is offering. (Remember, there is no single "one size fits all" solution for heated driveways. Each project should be carefully evaluated to determine the best custom heating option.)

Warmzone is a trusted leader that takes pride in offering free consulting and unbiased recommendations. Your system will be carefully analyzed before any recommendations are made. And after purchasing the system, you'll receive the best service in the industry – service that includes free installation training, real-time technical support and industry leading system design and layout services. Our products are proven industry leaders, and our customer service is second to none. Call us today to learn more at 888.488.9276.
The ClearZone Heating Element
Warmzone offers the proven ClearZone heat cable that is available for concrete and paver installations as well as cable with a specially designed outer jacket for installation in hot asphalt applications. (Maximum external jacket asphalt temperature specifications: 220°F (105°C) [460°F (240°C) for up to 10 minutes.) For more details, contact Warmzone at 888.488.9276. The heat cable has been installed for virtually every type of snow melting application imaginable, including heating commercial parking ramps, driveways, sidewalks, outdoor malls, loading docks, runaway truck ramps, public transportation stations, government facilities, and more.
Some ClearZone Heating Cable Features Include:
Cable Construction: Twin conductor cable with single-point connection
Rated Voltage: 120-600 V (For 120, 208, 277, 600 V, please call.)
Metal sheath: Copper
Outer Sheath: Polyolefin
Conductor Insulation: Fluoropolymer
Durable outer jacket and sheath: construction provides durability
Cold lead: 16.4 foot cold lead length
ClearZone asphalt heating cable: 220°F (105°C) *[460°F (240°C) for up to 10 minutes]
Warranty: 10-year limited warranty against manufacturing defects
Configurations: Available off the spool or pre-spaced in easy to roll out mats for quick installation.
Learn more about how heated driveways work.

About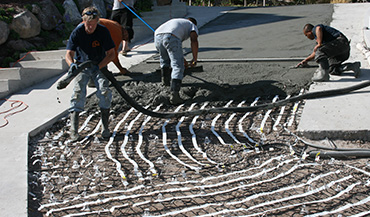 Installing a heated driveway is a wise investment in your home that can boost the value of your property. Fortunately, radiant snow melting systems aren't limited to new construction jobs. Existing driveways can also be retrofitted with radiant heat. Asphalt driveways are particularly easy to add radiant heat. Concrete driveways can also be retrofitted with radiant heat using by using saw cut technology. Each project varies, so call a radiant heat expert and discuss the options for heating your driveway or sidewalks. You may be surprised by the many driveway heating options that are available.
Services
As an industry leader, Warmzone offers comprehensive services that are virtually unmatched. These services include:
Service center
---
Business hours:
Monday - Friday:

8am-5pm MDT
---
Talk with an expert now.
Call toll free: 888.488.9276